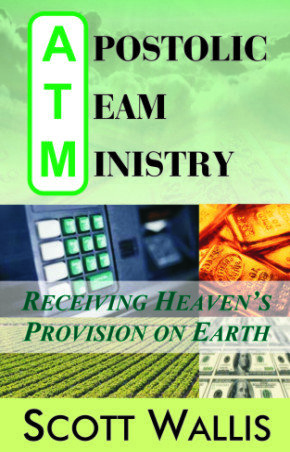 Apostolic Team Ministry: Receiving Heaven's Provision on Earth
SKU 00007
Product Details
From the Author
Anyone called into apostolic ministry will be blessed by wealth of revelation contained in this book. I have written it for the purpose of enabling true apostles to fulfill their mandate. You will need to learn and walk in the revelation contained in this book to obtain the wealth that is available to you. As an apostle and apostolic believer, God has given us the power to get wealth. Deut. 8:18. But, we have to learn how to walk in it. This book will teach you how to walk in and obtain supernatural wealth.
From the Back Cover
God has an awesome destiny for His Church and people. Why then are so many believers falling so far short of the potential they have been given by Christ? Many believers can barely make ends meet on a regular basis. Very few believers have more than enough, most have just enough and far too many just don't have enough.
Scott Wallis in this cutting edge book on apostolic team ministry provides practical answers to the questions that many believers have, which are, "Why am I struggling with lack in my life?" "What can I do about it?" And, "How can I overcome lack in my life?"
Through this powerfully anointed book, you will learn:
Why apostles are so important to the purpose and plans of God.
How apostolic teams release tremendous supernatural power into the Church through their apostolic agreement in prayer.
The reason why God calls apostles to work in apostolic teams.
How apostolic teams release tremendous wealth into the Church.
Save this product for later