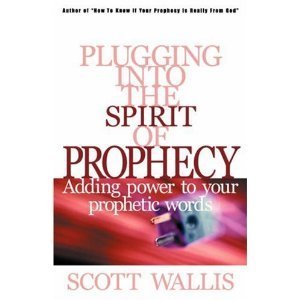 Plugging Into the Spirit of Prophecy: Adding Power to Your Prophetic Words
SKU 00003
Product Details
From the Author
God's power is available to prophets and prophetic people. But, we often fail to access that power because we don't connect to it. Many don't know how to plug into the power of the prophetic word. In this book, I provide practical tips for accessing more of God's power in prophecy. You will be blessed as the power of the prophetic word transforms your life.
From the Back Cover
Prophetic ministry is one of the most important ministries in the Church. God has raised up prophets and prophetic people to speak the very words of God into life's situations, and they are called to do this in the midst of the Church. This is why prophets and prophecy are so important to the Church. We desperately need prophecy during the dark days in which we live. God is stirring His people as never before to hear His voice. Prophets are being called to awaken our ability to hear God. God wants to teach us how to hear His voice and what to do once He speaks. This is why such an emphasis is being placed upon the prophetic anointing, office and Spirit at this hour in history. Because of this, God is calling His prophets and prophetic people to get plugged into His power. It is not enough to minister out of the gift of prophecy—we must be moved by the Holy Spirit of prophecy. In this book, the second in Pastor Wallis' series of books onprophecy, he shows you how to add power to your prophetic words.

Within the pages of this book you will learn:

✦ WHO THE SPIRIT OF PROPHECY IS AND HOW TO WORK WITH HIM.

✦ WHY WE NEED TO FLOW IN THE SPIRIT AS WE MOVE IN THE REALM OF PROPHECY.

✦ HOW TO GET INTO THE FLOW OF GOD'S SPIRIT SO THAT HIS POWER IS RELEASED.

✦ WHAT IT TAKES TO BE A GENUINE PROPHET OR PROPHETIC PERSON.

✦ HOW TO HEAR GOD SPEAK AND STEP INTO WHAT HE IS SAYING.

Save this product for later